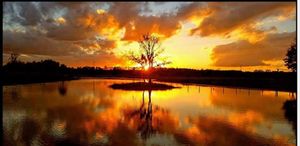 MAGNATAR is a five-piece band based in DeLand, FL,  crossing over three generations of musicians that share a common interest in creating original music with a unique but still accessible progressive influence. The lineup is Glenn Smith on Mandolin, Joey Costa on Bass, Reed Hayes on Drums, Ryan Rivas on Guitar, and Dave Norton on Keys. Glenn has been the principle songwriter to this point, composing his songs on the Mandolin. Their self produced debut album, "Parallel Worlds", was released worldwide on 10/23/18. The album is about half older compositions from some of the earlier days of the band, and the other half are new songs written with the current lineup in place. The band works very hard to give each song its own unique identity. That said however, there is still a distinctive sound and style that runs through the album that defines the band. Many of the songs blend a big full sound with touches of a quieter, even delicate feel. Always present are soaring guitar leads, at times powerful and heavy, and other times more spacey and melodic. Driving drums and biting bass lay the rhythmic foundation, while the keys fill the gaps and add many different textured sound layers. The mandolin serves as the "thread" that sews it all together from beginning to end and everything in the middle.The band released their debut album, "Parallel Worlds", on 10/23/18.
"I love when a band takes a chance. Let's take the incredible bass sound that sounds sort of like Starcastle, but turn it sideways by using a lead instrument rarely seen in Progressive Rock, the mandolin. This is Magnatar. Their album, Parallel Worlds, is stellar and one of the best "new artist" releases in the genre. Roll with the bass and glide with that mandolin. Add some really good songwriting (it's really all about the songs anyway, isn't it?) and you have one of the best releases of the year from a new progressive rock artist. Bass players....come meet your new band. Mandolin players....it progs too!!!" 
- Marty Dorfman, Host of The Waiting Room Radio Show on The House of Prog at www.houseofprog.com 
"I recently played Magnatar for the first time on my radio show and was knocked out by the sound of this band, led by an incredible lead guitar which mixes perfectly with the rest of the band. All of these guys can really play! Our listeners loved them too!"
- Shaun Geraghty, Host of The Prog Mill - Progzilla Radio
"I've always found the describing music via written thought is suspect at best. I could attempt to walk you through the compositions and try to do each "justice" with the written word. But that, my friends, is a fool's errand. You must listen to this album and listen to it in it's entirety. It flows. It tells a story. And it's the first offering from a band hidden in a small town in DeLand, Florida." - Dave Rauschenberger  
"Songs vary from acoustic numbers to full blown symphonic work outs, sometimes the focus being on melody, other times becoming an exercise in technicality. Parallel Worlds is a perfect example – the song moves between almost Yes-like themes or interludes before launching into more muscular sections where instrument individualism comes more to the fore in the form of a complex drum fill or guitar semi-solo." - Andrew Curtis
"Intricate, well thought out, flawlessly executed arrangements with solid grooves. Since I'm a bassist myself, I have to give a shoutout to Joey, the bassist, for great playing and killer tone. It's undeniable that "YES" is a big influence on the band. Magnatar takes that influence and creates their own sound with the mandolin adding a nice texture to the mix. Put your headphones on, turn 'em up and enjoy!" - Lanice Morrison
Album Review Quotes  
"Their sound draws heavily on classic prog and it's not hard to discern the influence of Yes...But Magnatar isn't some tribute act rehashing old glories, and both the songwriting and production on Parallel Worlds are terrific." - PROG Magazine, February 2019